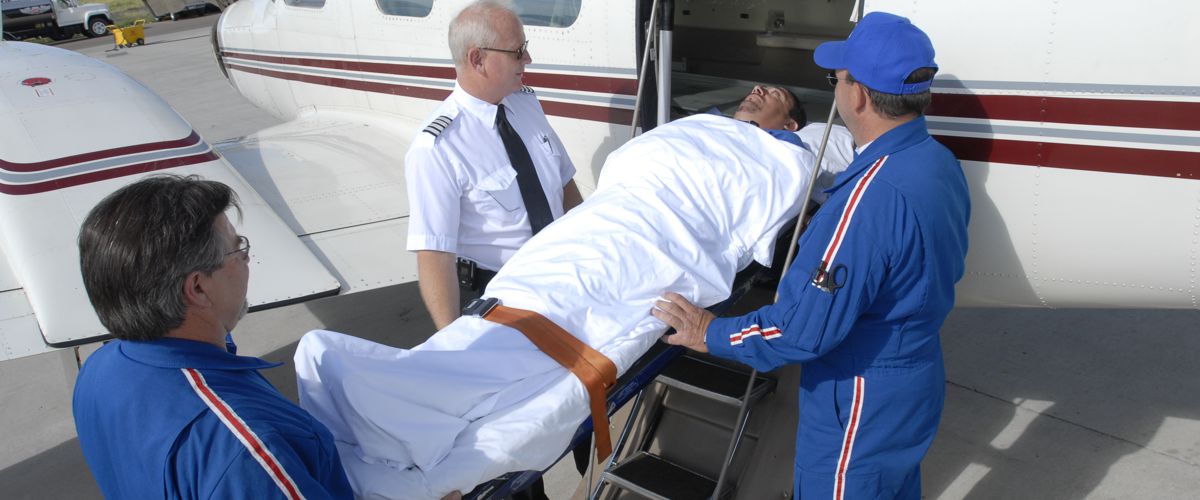 TravelAire Service is a licensed and insured air ambulance service operating under their own FAA 135 certificate. We have been providing Aero Medical Services regionally and nationally since 1984. We provide fixed wing air ambulance transport services through insurance or private payment.
We provide three levels of care: basic life support, advanced life support and critical care. Every flight is tailor made to fit the patient's medical care needs and support. We will arrange a complete bedside to bedside service, including ground transportation. TravelAire staff includes nurses, paramedics, respiratory therapists and physicians.
The Dispatch Center is available 24 hours a day, seven days a week. Medical flights are dispatched between the hours of 05:00 to 21:00 hours. For questions or transportation arrangements, please call toll free 1-800-645-3987.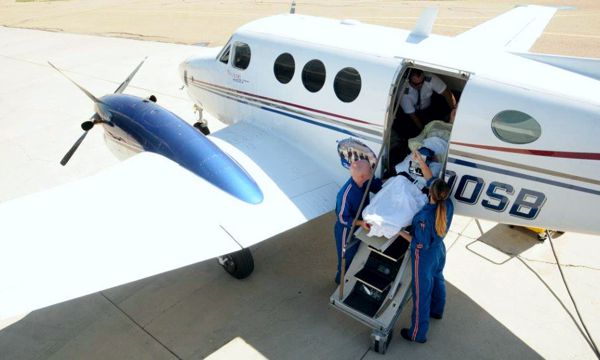 If your patient needs to be transferred from your hospital, when determining what healthplan your patient is covered by, please look at the below list and consider our services.
ANTHEM
COLORADO CHOICE CARE
MEDICARE
PARKCARE PLUS (PARKVIEW EMPLOYEES)
PINNACOL WORKERS COMPENSATION
PRIME HEALTH NETWORK
UNITED HEALTH CARE
VETERANS ADMINISTRATION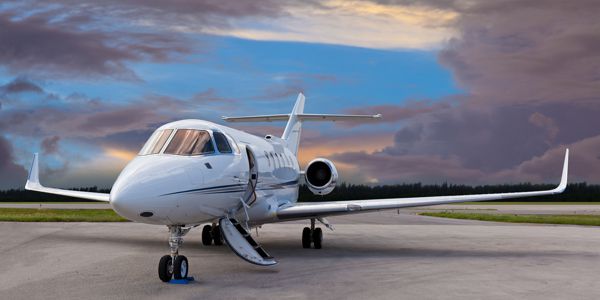 Public Notice of CAMTS Survey
The Commission on Accreditation of Medical Transport Systems conducted an accreditation site visit of: TravelAire Aeromedical Services

On November 12, 2013 and November 13, 2013
The purpose of the site visit will be to evaluate the program's compliance with nationally established medical transport standards. The site visit results will be used to determine whether, and the conditions under which accreditation should be awarded to the program.
CAMTS accreditation standards deal with issues of patient care and safety of the transport environment. Anyone believing that he or she has pertinent or valid information about such matters may request a public information interview with the CAMTS site surveyors at the time of the site visit. Information presented at the interview will be carefully evaluated for relevance to the accreditation process. Requests for public information interviews must be made in writing and sent to CAMTS no later then five (5) business days before the site survey begins. The request should also indicate the nature of the information to be provided during the interview. Such request should be addressed to:
Office of the Executive Director
Commission on Accreditation of Medical Transport Systems
PO Box 1305
Anderson, SC 29622
The Commission will acknowledge such written requests in writing or by telephone and will inform the program of the request for an interview. The program will, in turn, notify the interviewee of the date, time and place of the meeting.
This notice is posted in accordance with CAMTS requirements and may not be removed until the site visit is completed.
Date Posted: 10/11/2013